New David Williams IFA offices take shape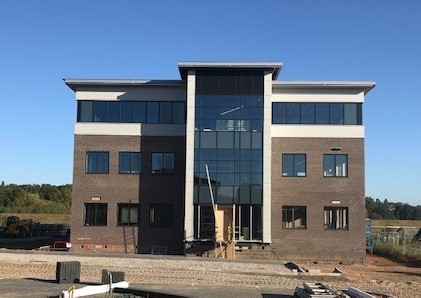 THE NEW HEADQUARTERS for Northamptonshire's leading firm of Chartered Financial Planners is taking shape, supporting the business's remarkable growth in recent years.
Construction is progressing well on a custom-designed 10,000 square feet office building for David Williams IFA. The company will move into its new home before the end of the year.
The new office is on a greenfield site and will be the first development in an expansion of the Waterside Way Business Park, just off the A428 Bedford Road.
David Williams IFA's new office will provide state-of-the-art facilities for both clients and staff. It will have space for more than 85 employees and will have a first class suite of meeting and conference facilities for clients.
The site has been deliberately chosen to provide expanded parking space for all clients and staff who need to travel by car. However, the building will contain staff showers and bike parking for those who choose to cycle to work.
Nick Beal, managing director of David Williams IFA, says: 'This is an exciting and hugely important step for David Williams IFA.   We look forward to welcoming our clients to our new offices later in the year.'