New Chartered advisers for David Williams IFA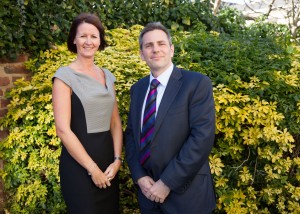 TWO advisers at David Williams IFA are celebrating reaching the pinnacle of their profession.
Alison Davies and Stephen Womack have both earned the Chartered Financial Planner title, achieving the highest possible level of qualification.
This means that seven advisers at David Williams IFA (DWIFA) are now a member of the elite Chartered club.
Becoming a Chartered Planner is a huge undertaking. The title, granted by the Chartered Insurance Institute, is dependent on passing a series of advanced professional exams in areas such as tax, investment and pensions. It also requires appropriate professional experience and adherence to the highest ethical standards.
The Chartered Financial Planner title is personal to each adviser. In addition, David Williams IFA itself is separately accredited as a Chartered Financial Planning firm, the gold-standard for advice firms.
David Sparrow, managing director at David Williams IFA, says: 'In a complex financial world, the best professional advice is essential. The rigorous extra study and examinations needed to qualify as a Chartered Financial Planner shows our advisers are going the extra mile to deliver the right help to clients. Congratulations to Alison and Stephen on their achievement.'