Exam success brings a Chartered reward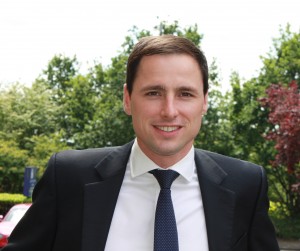 David Williams IFA is delighted to announce that yet another of our consultants has become a Chartered Financial Planner.
Mark Sparrow has been awarded the coveted title after completing his Advanced Diploma in Financial Planning. This tough series of exams is the highest level financial advice qualification and is a pre-requisite for becoming a Chartered Financial Planner.
Mark has worked for David Williams IFA for more than five years. He came into the financial services sector after completing his mathematics degree at the University of Liverpool. He has gained experience and knowledge through a range of roles in the company and is now advising clients at the highest level.
Nick Beal, DWIFA director of business development, says: 'We are absolutely delighted with Mark's achievement and with all the hard work he has put in to become Chartered. It is particularly satisfying for David Williams IFA to see a "home grown" talent being recognised with this prestigious qualification.
'As a Chartered firm, we strongly encourage our advisers to push themselves to the highest levels to ensure clients receive the most comprehensive service possible.'
Mark's Chartered status means David Williams IFA now has eight Chartered Financial Planners who are advising clients. This reinforces the company's position as Northamptonshire's most qualified advice firm.
David Williams IFA is also celebrating another exam success. Consultant Matthew Cox has now passed his AF3 advanced pension exam, a key stepping stone towards his goal of becoming a Chartered Financial Planner too.